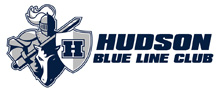 Sponsorship Sign Up
On behalf of the Hudson High School Boys & Girls Hockey Teams, we want to thank those of you who supported the Hudson Raider Hockey Program last year and the Hudson community for the tremendous support of Hudson Raider High School Hockey. We would greatly appreciate your support again this season and as a non-profit organization, we could use your help more than ever given these uncertain times.
For anyone new, game programs are distributed at each Boys & Girls Varsity and JV home games. New this year is our "Sponsor Spotlight" series which includes tags on our Social Media for our generous sponsors! Your investment in an ad not only provides visibility and recognition for your company as a strong supporter of the community but also helps cover:
Financial assistance/scholarships for players who otherwise are financially unable to participate in the great game of hockey!
Expenses before, during and after the season that aren't funded by the school district (examples include: equipment, training, ice time, tournament/officiating fees, travel fees, and one-time expenses such as locker room repairs, etc.)
Community support & coordination of several service projects where players volunteer throughout the community all year long, to give back to those less fortunate or able. (examples include: unloading food trucks, learn to skate volunteers, Salvation Army Bell Ringing, Special Hockey supporting our Special needs community and many more!)
Hudson Blue Line Club is a 501c3 non-profit organization (Federal ID#: 46-2882983) which may provide tax benefits to you for your donations. Please work with your accountant on details.
We've been overwhelmed with the success of the live stream service for games and that will be highly sought after so we're excited to offer it again this year! There are a limited number of spots for sponsoring ads to run during Boys & Girls games being live streamed on RaiderStreaming.com and we offer reduced pricing for sponsorship/investment in both the program & streaming.
Thank you for your continued support for Raider Hockey!