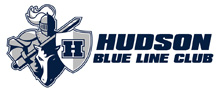 Financial Donations
The Hudson Blue Line Club is a volunteer 501(c)(3) organization comprised of board members and many parent/guardian volunteers providing financial, organizational, and educational support for the Hudson Raiders High School Hockey program. This year more than ever, we will rely heavily on fundraising due to budget/funding from the district being drastically reduced by as much as 30% for the hockey program expenses. We humbly ask you to please consider The Blue Line Club as a recipient for donations you choose to make.
With the help of your donations and fundraising efforts we're able to provide many items which aren't funded by the Hudson School District for our Boys & Girls Raider Hockey Program. Our efforts include but aren't limited to:
Providing funding for: equipment, supplies, rink fees, facility needs, locker room updates, meals and travel fees not covered by the district.
Organizing volunteer events for players to support the Hudson community with activities like unloading food trucks, sandwich making for food shelves, youth programs, and the special hockey program which introduces kids with special needs to the great game of hockey!
Coordinating special events for unique game night experiences like teacher night, senior, parent & alumni night as well as team building.
Assisting the coaching staff and Raider hockey families with communications, volunteer coordination & resources for a smooth season.
Last but not least we provide an avenue for scholarship/financial assistance to players in need.